Believing in James Madison's statement that, "The advancement and diffusion of knowledge is the only guarantee of true liberty," a group of parents began working together in 2010 to provide additional educational choices for families in Idaho Falls. Some in this group were familiar with North Valley Academy Charter School (NVA) in Gooding, Idaho. NVA's rigorous curriculum, emphasis on "old-fashioned" values, dress standard, and the devotion to patriotism were all very appealing to this group of individuals who were about to embark on an incredible journey. The result of months and months of hard work paid off. Presenting American Heritage Charter School: Home of the Patriots!
The Idaho Public Charter School Commission approved American Heritage Charter School's charter on August 7, 2012. The school is governed by an independent board: Debra Infanger, Matthew Trent VanderSloot, Chris Schofield, Mike Infanger,Tappia F. Infanger, and Sara Schofield.
If you would like additional information about AHCS specifically, read our Charter.
Information about Idaho Charter Schools and charter schools in general can be found by clicking here.
You can contact our Board of Directors by calling Chairman Deby Infanger at (208) 539-7271 or e-mailing clerk@ahcspatriots.us.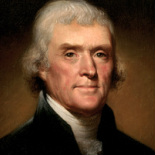 We in America do not have government by the majority.
We have government by the majority who participate.
-Thomas Jefferson